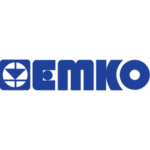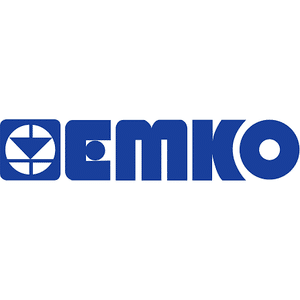 EMKO ESM-4450 PID process controller with universal input, 1 relay output, 2 slots for I/O expansion cards and communication interface
from 124,44 €
Stock variants
Description
EMKO ESM-4450 PID controller for temperature sensors and analogue signals with two slots for I/O expansion modules
4-digit PID Process controller with programmable universal input for thermocouples, resistance thermometers or analogue signal 0-10 V, 0/4-20 mA.
The PID controller ESM-4450 can be used for many applications with the universal process control input, multifunctional control outputs, selectable alarm functions, serial interface and input/output modules. The PID controller is mainly used in the glass, plastics, chemical, oil, textile, automotive and mechanical engineering industries. The control mode can be set to ON-OFF, P, PI, PD or PID. The PID controller also has a PID self-tuning function, adjustable to Auto Tune (cycle limit) or Self Tune (step feedback). The control outputs can be programmed for heating, cooling and alarm functions.
Features
Operating voltage 100-240 V AC or 24 V AC/DC
Programmable universal input (TC, RTD, mV, V, mA)
Programmable heating, cooling and alarm functions for control outputs
Programmable ON-OFF, P, PI, PD, PID control modes
3 programmable limit values for control outputs
Slow start function
Ramp function
RS-232 or RS-485 interface
Relay output
SSR control output
Transistor output
0/4-20 mA input
0/4-20 mA output
Digital input
0-5 A Current transformer input
Thermocouple input
Pt-100 input
0-10 V DC input
Wiring diagram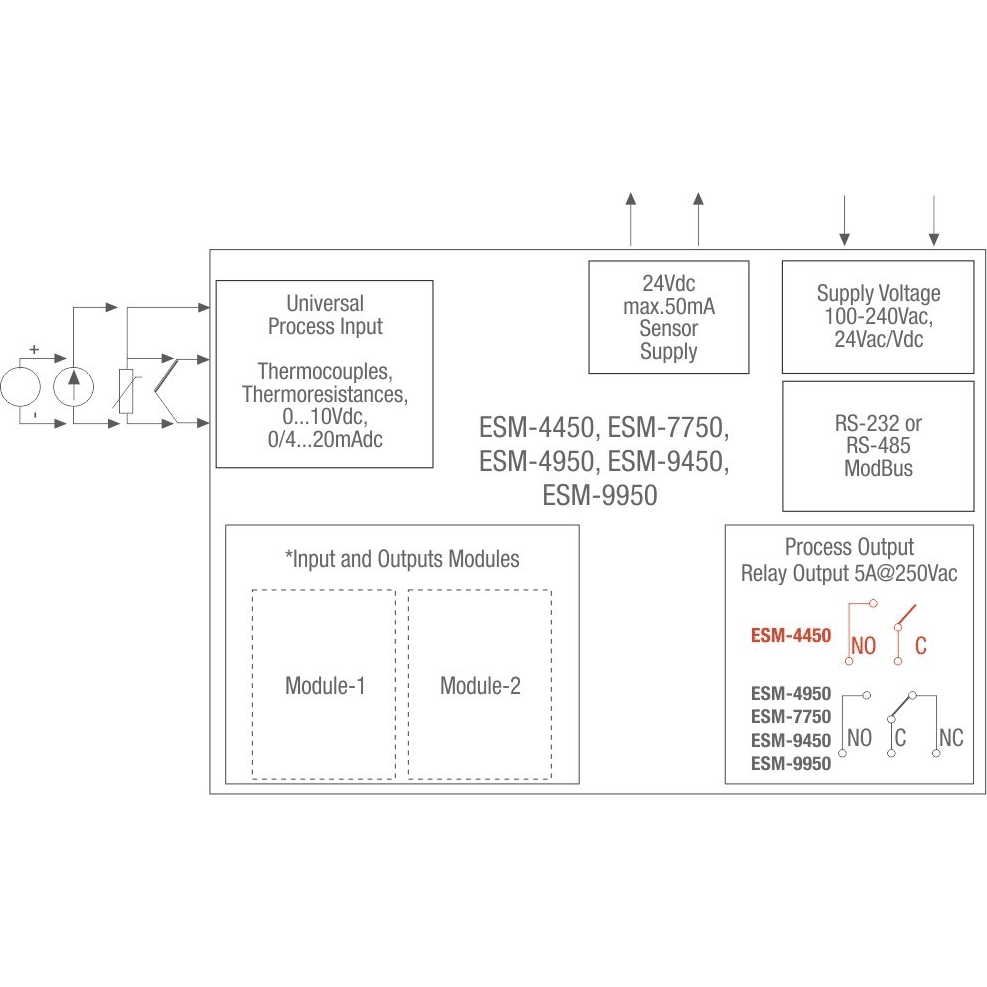 Accessories
I/O expansion modules for two slots.
EMKO EMI-4 input expansion modules
EMI-400 Digital 5 to 30 V DC
EMI-410 0/4 to 20 mA
EMI-420 0 to 5 A for current transformers
EMI-430 Thermocouple
EMI-440 Pt100
EMI-450 0 to 10 V DC
EMKO EMO-4 Output expansion module
EMO-400 Relay 3 A/250 V AC
EMO-410 Solid state relay 15 to 18 V DC/50 mA
EMO-420 Transistor 24 V DC/100 mA
EMO-430 0/4 to 20mA
Additional information
| | |
| --- | --- |
| Controller type | 2-point controller, PID controller |
| Supply voltage | 24 V AC/DC, 230 V AC |
| Interface | RS232, RS485 |
| Input | Thermocouple, 0 to 5 A, 0 to 10 V DC, 0/4 to 20 mA DC, Pt100, digital input |
| Output | 0/4 to 20 mA |
| Switch output | Solid state relay, relay |
Matching products ...
excl. VAT

from 14,07

€

excl. VAT

excl. VAT

from 14,07

€

excl. VAT