Signal converter ICs are integrated circuits for versatile use in industrial control systems, such as process controllers or PLC programmable logic controllers.
from 10,73

€

plus VAT.

excl. VAT
Signal converter ICs in SIP housing with plug-in socket
Compared to previous I/O systems, which require a separate control circuit for each I/O type, the signal converter ICs of the M5S series have a universal connection scheme. Users can therefore cover a wide range of different applications with just one universal circuit, realise customer-specific input and output configurations by plugging in the corresponding signal converter IC and even expand devices already installed in the field with additional modules or functions.
The internal or external wiring does not need to be changed. All components in the M5S series measure 5 mm x 12.7 mm x 20 mm (D x H x W) and are therefore compatible with the 5 mm SIP industry standard (e.g. Panasonic relays). The components are easily interchangeable, fully sealed, waterproof, fireproof and dustproof.
The M5S series of signal converter ICs can be used in an enormous range of applications. The components make life easier for every developer who wants to connect their electronics with industrial signals.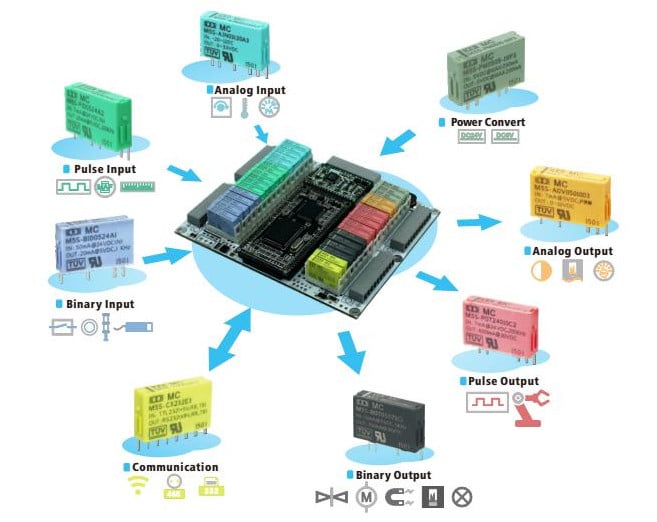 Pluggable signal converter ICs for manufacturers and developers
The modules are tailored to the requirements of manufacturers of industrial control systems and programmable logic controllers (PLCs) as well as circuit developers and prototype developers and also address developers of small series and the maker scene.
Developers who opt for the signal converter ICs from the M5S series can use them to reduce development costs and shorten the time for developing and planning systems and therefore the time-to-market, as only one circuit is required for all functions. In addition, only low maintenance costs are incurred when using the components, as individual ICs can simply be replaced, for example in the event of a defect. Another advantage for users is low storage costs, as a universal basic device, for example, is only assembled for the customer on delivery.
The M5S series includes four digital input ICs for detecting switching states, pulses or encoder signals with galvanic isolation via optocouplers and open collector output as well as four digital output ICs for controlling relays, lamps, buzzers or other signalling devices. Depending on the model, the modules with digital output are available with relay, solid-state relay or transistor output with galvanic isolation.
The four analogue input ICs in the M5S series are designed to record analogue signals, potentiometers, temperature sensors and other devices that generate current and voltage. The components are suitable for isolated and non-isolated signals.
Users who need to control speed regulators, heating controllers and other devices that measure voltage or current can rely on the four analogue output ICs of the M5S series with standard analogue signals of 10 V and 20 mA.
Advantages of pluggable signal converter ICs
a circuit for different I/O applications
Assembly or exchange by plugging possible
Ideal for small series or a large number of product variants
Low development costs
Short time to market
Low storage costs
Signal converter ICs Possible applications
PLC controls
Air conditioners

Speed governors

Heating controller